cPanel Licensing for VPS Hosting
Leading Web Host Manager (WHM) Reseller Solution since 2000
User-friendly, feature-packed cPanel Control Panel
Add to any VPS for $10.00 a month
cPanel / WHM 11.23 is one of the most powerful and flexible control panel systems available. cPanel features numerous plug-ins to customize its appearance, increase functionality, and install pre-compiled applications.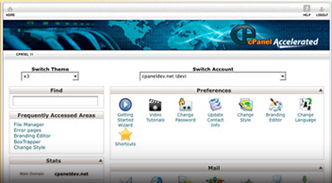 cPanel Licensing
only $10.00 / mo
Your cPanel license will include access to our preinstalled cPanel operating system template—you'll have everything you need to start using your cPanel VPS in minutes.
A cPanel license is a wise investment for any web host: consider the hundreds of testimonials offered at the cPanel.net site and try out the WHM / cPanel Demos for yourself.
The Industry Standard in Web Hosting
A tried-and-tested web hosting reseller's application of choice, cPanel includes the following features (and more) to make managing your VPS easier for you and more rewarding for your customers:
Software Installation and Configuration—Skip the hassle of command-line administration and configure your Apache and PHP installation with a few clicks
User Account Management—Easily manage and synchronize your customers' e-mail, FTP, and control panel access
Web-based Tools—Your customers will be able to upload files, check their e-mail, and generate site traffic reports
Spam Protection—Eliminate spam e-mail automatically with SpamAssassin